Acid Solutions
uses proven and patented methods and systems that have been designed to treat mild to highly contaminated water bodies, environmentally sensitive sites & sites with accessibility problems. Several different treatment methods, adaptable to many different water contamination problems, can be
readily configured to achieve the desired water quality.
Types of sites we treat:
Mining Pits, Dams & Contaminated wet season catchment water

Abandoned mines & Acid Mine Drainage

Quarries and Large Construction sites

Pretreatment for Reverse Osmosis & Powerstation cooling water
Large Lakes, Rivers, Streams, Swamps and wetlands

Abattoirs, Wood preservation Plants and Paper Mills
Acid Forming rock, waste rock dumps and Pyritic Rocks and Soils

large Leaking Dams (Dam Sealing)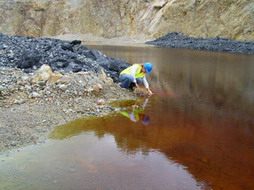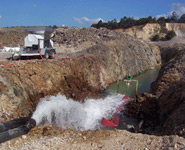 The types of treatment we provide:
We specialise in treatment of large volumes of highly acidic, low pH, metal contaminated water using a range of treatment methods and machinery - In-Line, In-Situ, multi process and complex multi reagent treatments.
Insitu Treatment - We very quickly treat, large dams, pits and lakes containing several Million litres to many Gigalitres. With our methods we have the capability to target contaminants and accurately deal with difficult stratification and depths over 45 metres. We can provide flexible separation walls to allow treatment of a smaller volume within a large site.
Targeting contaminants, we have accurately and efficiently applied over 520 tonnes of regent in less than 46 days with our mobile systems. - See Case Studies

Inline Treatment – We can and do treat many millions of litres per hour of flowing water.
Treatment of either pumped water or flowing river systems, can be accomplished accurately and safely with the inbuilt automatic reagent correlation and alert systems– (Our machines have very accurate reagent output rates from 1 kg/Hr to over 4 Tonnes per hour.) We have many specialised application systems for this purpose.

Neutralisation of Acid forming rock and soil - We accurately apply specialised neutralising and sealing reagents to Acid forming sites (AMD) covering many hectares. Many types of large and difficult sites are treated such as waste rock dumps, PAF sites and rock faces.
Our treatments quickly deal with the cause of the problem providing several benefits-
1. The reagents neutralise the existing acidity held on and in the rock structure.
2. The treatment provides a bonded and lasting coating to minimise further oxidation and formation of acid.
3. Residual alkalinity helps to neutralise acidic water passing over or through the rock or soil providing long lasting protection of acid forming sites.
Sealing leaking Dams - Our Dam Sealing Services quickly seal seepage and large leaks in Holding and Tailings Dams when dewatering and sealing is not an option. Stop contaminated water seeping from your holding or Tailings dam into the environment or groundwater. Our sealing services are a fraction of the cost of other methods and require much less time and hastle.
We use a range of machines and application systems to suit the
many difficult and extremely large sites thought to be untreatable.

Contaminants treated:
Neutralisation of pH and acidity
Suspended Solids and turbidity
Removal of specific dissolved metals and metaloids including:
Al, As, Cd, Co, Cu, Fe2/Fe3, Pb, Mg, Mn, Ni, Se, Zn and many others
Single specific contaminants, i.e. Cyanide, Algae, Ammonia, H2S, CCA
Many other industrial contaminants
Difficult to access and sensitive sites:
We specialise in large, difficult to access and environmentally sensitive sites.
Acid Solutions unique machines, systems, reagent supply trucks and loaders do not need to destroy the fragile flora near the treatment site.
Setup and loading can be done several hundred metres from the site if access or sensitivity of the environmental surroundings is an issue, thus preserving the natural habitat. Because of the mobility of the machines and systems, transport and site accessibility is exceptional, including lifting by helicopter to inaccessible areas.

Water management, consulting and analysis:
Our Consulting Services are based solely on water contamination, its causes and the most cost effective and efficient solutions. We provide fast, precise, plain english consulting services using site assesments and water analysis to evaluate the best solution. Acid Solutions supply a full water and site analysis service for a complete water treatment configuration to meet each sites requirements.

We regularly work with the client's water consultants:
Acid Solutions often provide "treatment only" services for consultants and/or the end-client if requested where an urgent water treatment start and quick completion is vital.

Confidentiality:
Acid Solutions understands the legal and media implications associated with contaminated water. Acid Solutions maintains strict confidentiality in regard to you, your site and problems.